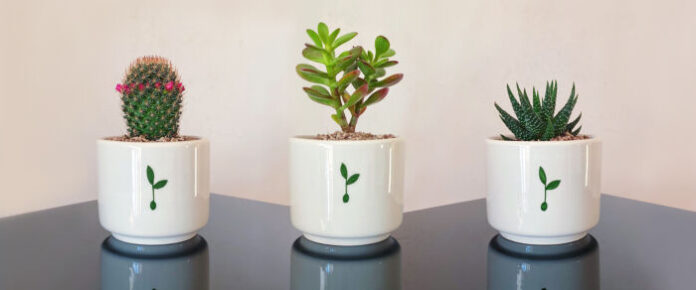 Buying a plant is a simple gesture but it can have a great positive impact on our lifestyle and the environment. Surrounding yourself with plants at home brings multiple benefits: it improves mood, gives well-being, furnishes rooms and makes a valuable contribution to our health.
In Italy there is a startup that allows you to participate in a reforestation project every time you buy a plan for your apartment. Piantando, founded in April 2019 by Andrea Evangelista and Chiara Riente, is based on a simple but very effective idea: to sell a series of plants, each of which is connected to an environmental, social and biodiversity redevelopment project.
Thus, the end customer has a new plan to take care of, to embellish the apartment or terrace. A percentage of the sale price of the plant is donated to a specific project, which respects precise standards in terms of transparency and management.
"Each plant, placed in vases made and hand painted in Italy by the potters of Castelli (TE) – explain the founders of Piantando – equates to a transparent and unique contribution, intended for an initiative certified by the Piantando Value Chain. Everyone thus becomes ambassadors of a new green way of living and of understanding their commitment to the planet".
Among the reforestation projects carried out by the Italian startup, there is one particularly dear to Andrea Evangelista and Chiara Riente which promotes the recovery of ecosystems in Chile. The activity is carried out in collaboration with the Fundación Reforestemos, a movement committed to recovery of the forests of Chilean Patagonia.
Leading the project is Conaf (National Forestry Corporation), which together with Patagonia Sur selects the areas in which to intervene, chooses the appropriate approach to their characteristics and takes care of the planting. In parallel, Fundación Reforestemos also works to spread awareness on environmental issues.
"With Piantando we are engaged in projects with a strong social and environmental impact in the world – confirm the founders – To finance our projects, we sell succulent plants which are combined with a code that links them to a project: in the case of the Patagonian reforestation project , each seedling purchased corresponds to a planted tree".
The other reforestation projects are active on the island of Amantani in Peru, where a medical, gynecological and dental clinic has been set up, and in the remote villages of Malawi, where wells have been built.
Subscribe to our newsletter