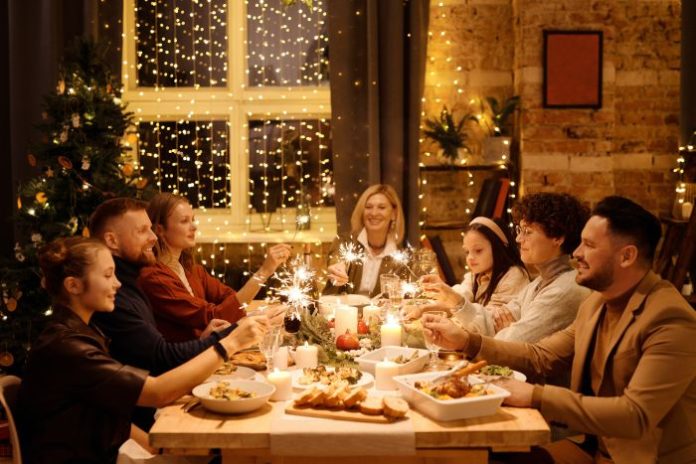 What appears to be an oxymoron is actually not. It is possible to live Christmas to the full without making any sacrifices and without damaging the environment that surrounds us by, for example, encouraging the use of organic Christmas trees, eco-sustainable Christmas decorations, low-energy lighting, do-it-yourself gifts, possibly with recycled packaging, and preparing Christmas Eve dinner and lunch on 25th December using local products.
Organic, regional or rented Christmas trees
Millions of Christmas trees are sold every year. To meet the demand, insecticides, pesticides and mineral fertilisers are often used to make the fir trees grow as fast as possible.
Unlike conventional trees, organic Christmas trees grow in mixed cultures. This makes them less susceptible to pests and the areas are not treated with pesticides. Sheep graze on many of these mixed cultures and their manure serves as a natural fertiliser. The organic Christmas trees come from farms certified according to the criteria of organic farming (e.g. Bioland and Naturland) or ecological forestry (e.g. FSC).
The Nordmann spruce is by far the most popular Christmas tree in Europe. But what hardly anyone knows is that the seeds come from Georgia. These are collected from the tops of fir trees, a dangerous job that causes deaths every year. Therefore, when buying Christmas trees, it is best to choose regional tree species. This also supports local forestry operations and avoids long transport routes.
For some years now, it has been possible to hire Christmas trees from nurseries, garden centres or online. The principle is simple: you choose a beautiful tree, it is delivered to your home or you collect it yourself, the tree is set up and decorated in your home and collected after an agreed time.
100% natural Christmas decorations
If you take a walk in the nature, as well as being good for your physical and mental health, you will find many materials that can be used as natural Christmas decorations: twigs, fruit, moss, nuts, chestnuts, fir branches and pine cones. Christmas tree decorations are also easy to make yourself: dried orange and apple slices, homemade straw stars and salt dough biscuits. Why not add a Christmas scent to your home with cloves, cinnamon sticks or oranges?
Low energy Christmas lighting
During the Christmas period, it is impossible to give up the magic of Christmas lights that make us all dream and warm our hearts, bringing back memories and dreams of our childhood. However, the waste of electricity from the beginning of December until the Epiphany is excessive and should be avoided.
The lights we love so much disturb nocturnal animals, migratory birds and even insects in their natural behaviour.
By using LED lights with smart sockets and timers and setting a reasonable on/off time or, even better, using solar batteries we are doing good for our souls without harming the planet.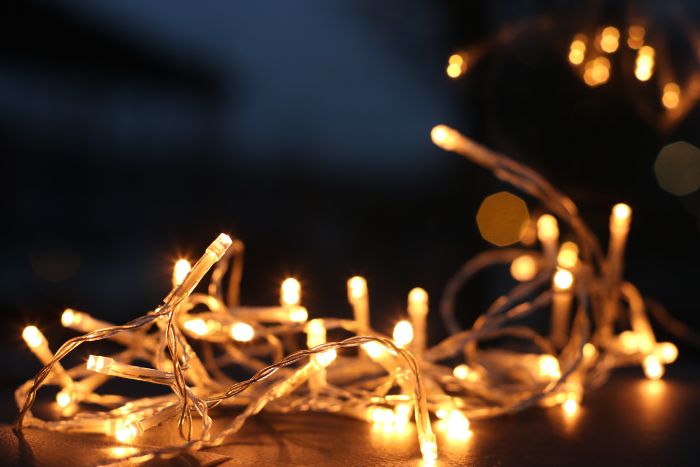 Christmas gifts: giving time instead of things, giving homemade items or giving a gift to the Planet

What does sustainable gift-giving actually mean? Giving a sustainable gift means giving someone an object that they can enjoy for as long as possible and that does not harm the mankind or the environment.
Many people have too much stuff. In the wardrobe, in the cellar or in the attic, we have too much everywhere. That's why we don't need the tenth pair of socks or the fifth scarf at Christmas. Give the gift of time: give some of your time to others by sharing pleasant moments. Why not simply give the gift of a gourmet dinner with local produce, a nature walk or a day at the spa?

A homemade gift is a personal gift that everyone will love. With a little creativity and time, you can make wonderful Christmas gifts for family and friends. Whether these gifts are for the palate, the body or to preserve good memories is up to you. Culinary gifts can be sweet and savoury spreads, chocolates, or snacks such as roasted almonds. But also home-made body care products such as lip balm or body butter are usually appreciated. Homemade scented candles, bookmarks or photo calendars are always a welcome gift.
With a donation you can help others and also our planet. In principle, it is very simple: you choose a project, make a donation in the name of the recipient, and the recipient then receives a 'donation receipt'. For example, you can donate a tree via Treedom, a beehive via 3Bee, an endangered animal via WWF or a small area of glacier via GLAC-UP.
Sustainable packaging: reuse wrapping paper, recycle old paper, use alternative packaging
An enormous amount of waste paper is produced every year at Christmas. There are no official statistics on how much waste is produced at Christmas. However, assuming 100 grams per Italian citizen, 6000 tonnes of packaging waste is too much. Moreover, not all paper is the same. Packaging paper is often coated with aluminium or plastic, which requires a lot of energy during production and also a lot of effort to recycle.
Why buy wrapping paper when it's super easy to reuse? Just open the gift carefully so as not to tear the wrapping paper and reuse it the following year. Unsightly edges can be folded or cut off. Old newspapers, maps, calendar pages, book pages or sheet music can be used as wrapping paper in an original and economical way. Decorated with a nice bow and a bit of fir or mistletoe, the old paper becomes a beautiful gift box.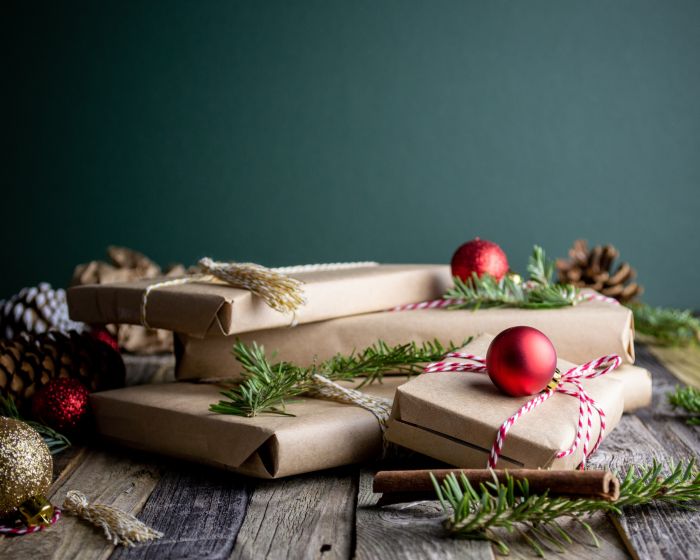 If you are a craft enthusiast and have some time on your hands, you can easily make your own wrapping paper. Baking or wrapping paper is great for printing and painting. Potato stamps can be used to create beautiful patterns, but watercolour can also be used to turn any wrapping paper into a small work of art.

Clothing such as socks, scarves, hats and shirts are particularly suitable for "wrapping" or better containing smaller gifts, perhaps with the simple addition of a pretty bow – a kind of gift within a gift. Old biscuit tins or jam jars can be quickly and easily converted into gift boxes. This saves time and money and is good for the environment.
Christmas Eve dinner and Christmas lunch
As far as the menu of 24th and 25th December is concerned, it is advisable to look at the seasonality of foods, for example lasagne with radicchio, pumpkin or artichokes; with red turnips you can make sauces in which to dip croutons for a tasty appetiser; with broccoli you can make tasty savoury muffins or again with pumpkin you can make mouth-watering flans. If you don't want to neglect a healthy, balanced diet, just follow the valuable advice contained in Greenpeace's Ecomenù. Last but not least, an eco-conscious person should set the Christmas table with traditional ceramic, porcelain or glass tableware and categorically avoid paper or plastic plates, glasses and cutlery.
We wish you a green Christmas!
Download the SmartGreen Post Magazine FOR FREE HERE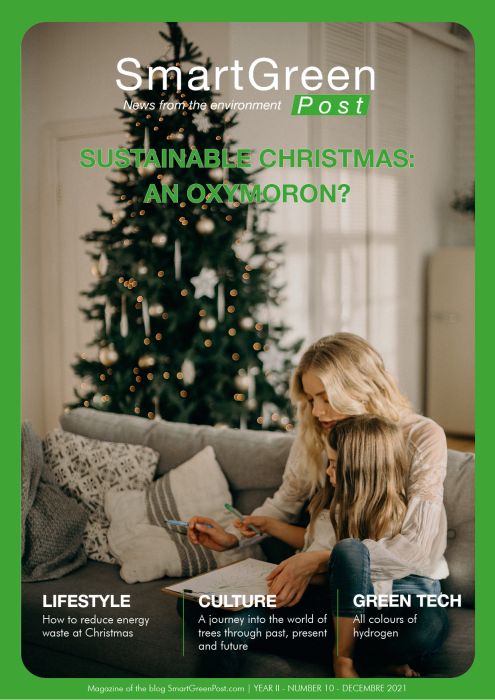 Subscribe to our newsletter