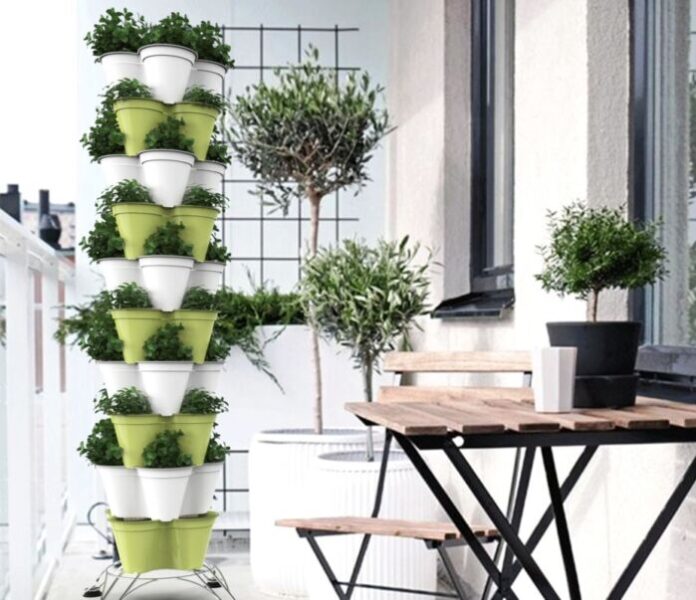 Respond to the recent crisis caused by Covid-19 in a strong and concrete way, to trace the route towards a more sustainable lifestyle and in contact with nature by creating a community that shares the same values.
This is the mission of Poty, a product just launched by Hexagro, a company born in 2017 and always committed to implementing vertical agriculture technologies, in Europe as in many developing countries, to enable everyone to access healthy food thanks to these technologies. A project carried out also through various collaborations with a strong social impact with different NGOs. Furthermore, Hexagro, for its work in the field of vertical farming, has received important awards from the Ellen MacArthur Foundation and from the Solar Impulse Foundation.
"Poty is a response to this crisis, to quarantine and smart-working, situations that have undermined man's well-being, making him almost a prisoner of his own city and losing contact with nature" – explains Alessandro Grampa, co-Founder of Hexagro – "We want to bring attention back to the consumer, his needs and the need to find a dimension of closeness to nature and its beneficial effects. All through urban farming, which is still infrequent in the city."
Poty, in fact, is a vertical vegetable garden made from recycled and recyclable materials built for outdoor spaces, including small ones, such as balconies or terraces, perfect for installation in the city. Like a sort of lego, Poty looks like a vertically modular structure made up of several four-leaf clover-shaped vases, which can contain up to 40 plants in its largest "size". With Poty, in fact, it is possible to grow small fruits, leafy vegetables and normal vegetables and seasonal aromatic plants.
A perfect example of urban farming that aims to bring more people closer to this practice allowing anyone to be able to independently grow their own vegetables and aromatic herbs.
A new urban farming community and attention to natural well-being – "With Poty we want to make urban farming known and bring agriculture back to the places where people live, urban centers, allowing them to be able to grow what is necessary without using chemical pesticides and above all containing food waste" – continues Alessandro Grampa – "But above all to rediscover the well-being that gardening and more generally taking care of plants brings to people who have no way of living in close contact with nature."
A perfect solution even for those who fear not having the green thumb needed to test themselves and cultivate independently on their balcony. Poty presents, in fact, an autonomous irrigation system, which will be enough to assemble guided by the digital assistant accessible via mobile or desktop.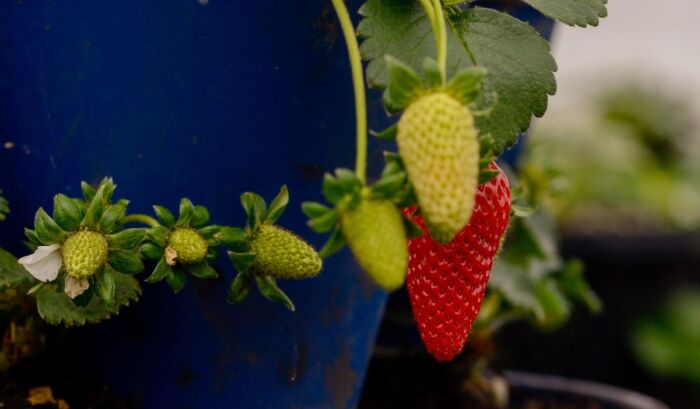 In fact, the vertical garden of Hexagro is not a simple structure of pots but is a real platform where there is a chatbot that guides the user in the various stages of cultivation, also giving advice based on how you feel in that moment. In fact, in order to encourage the search for well-being, the digital assistant recommends, where required, various gardening activities that can be carried out with Poty, with the aim of increasing both mental and physical well-being. And if the fruits are slow to arrive or the leaves of your seedling turn yellow, just take a photo, send it to the chatbot and an agronomist from Hexagro will be able to give the right suggestion.
Finally, it suggests everything you need to grow: the catalog is constantly updated and will count to over 100 varieties of plants by September, and above all how to use them in the kitchen.
In addition to the modular structure, Poty also consists of a series of elements necessary to start growing your own plants right away. In fact, an organic coconut substrate is included to support plant growth. This substrate in fact makes the plants more aerated and ensures more efficient drainage for optimal cultivation. Also included are the nutrients and seeds chosen to be planted in the different pots.
Sustainability and attention to others: two essential elements of Poty – Each component of Poty is made of metal or recycled plastic, the goal is to develop a circular economy model to combat waste and reuse every material.
More generally, Poty aims to create a community of people united by the same lifestyle. Therefore allowing everyone to be able to grow on their own products that are not always available on the market, taking advantage of minimal spaces, and creating real urban farmers who can connect with each other, exchange good cultivation practices as well as the products grown or even grow together. Reason why Poty is not a simple machine, but rather the means by which to connect with others and nature. To date, Hexagro organizes workshops and events in different cities with the next goal of creating a social platform, so as to make the Poty project 50% digital and 50% offline.
There is also the social aspect, which has always invested every project developed with Hexagro. For each Poty sold, the company installs new modules to be installed in social projects through Hexagro Siembra Vertical. The project, currently particularly active in Colombia with the support of the NGO Fundaces, aims to support the communities most vulnerable to climate change and who have greater difficulties in adopting sustainable agriculture practices, through the installation of vertical farming systems .
Subscribe to our newsletter