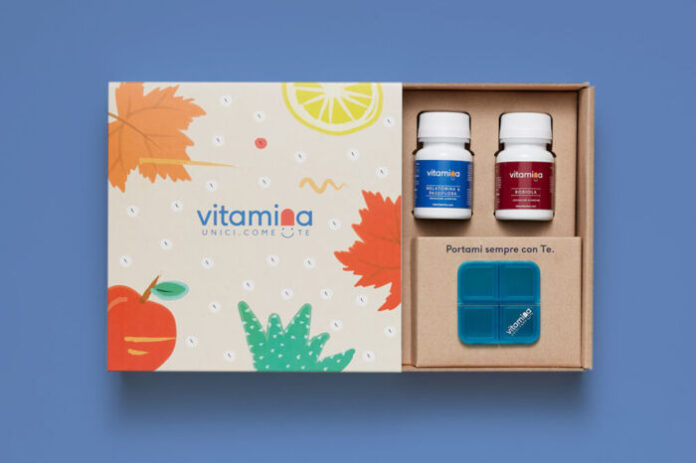 With eco-sustainability increasingly at the center of consumers' preferences and purchasing choices, companies are also starting to be sensitive to the green issue. And the first to move in this direction, for their innovative character and speed of execution, are the startups: this is the case of Vitamina, which today launches a pack (produced in two versions, one with a winter theme and one with summer theme), in 100% recycled cardboard to ship its supplements, with 4 slots for the product and a compartment for the pillbox; a pack produced in Italy, just like all supplements that can be purchased on the startup website.
Similarly, the 100% recycled cardboard is also the envelope – less bulky and therefore polluting – in which the food supplements are shipped after the first order, and all the information materials contained within the packaging.
"Since the beginning of the adventure with Vitamina we have reasoned with a view to sustainability, both in terms of product as well as packaging and packaging, and the new pack in 100% recycled cardboard marks for us, in this sense, the achievement of a goal important ", comments Filippo Sala, CEO and co-founder of the startup together with Giovanna Geri, pharmacist and nutritionist, and Marco Saccenti, designer.
"We aim to make our e-commerce entirely sustainable – he continues – we have chosen recycled paper for all the packages that allowed it; the only plastic packaging remains, also for regulatory reasons, that of the cans that contain the pills: even in that case, it is still 100% recyclable and differentiable PET. And we are evaluating alternative solutions. "
The attention to the environment of Vitamina, however, does not end with the packaging: "For 2020 we have other eco-sustainable initiatives in the pipeline – concludes Filippo Sala – we are working on a regular donation program with an environmentally conscious organization and, in particular, to the massive collection of plastic present in the oceans ".
Born in 2017 as part of the Nana Bianca Hubble acceleration program, Vitamina aims to "digitize" the food supplement sector, innovating the entire buying and consumption experience: on the startup website, in fact, the user has the possibility of obtaining, thanks to a free test, a personalized integration plan, which will then be delivered to the home within 72 hours from the order. All this, followed step by step by chat by a nutritionist pharmacist.
An innovative startup that, two years after its foundation, has already achieved encouraging results: almost 40,000 tests have been carried out online since the start of the activity, which have led to around 1,000 combinations of different integration plans, and a base of over 5,000 users (especially women and millennials) which now covers all Italian regions.
Subscribe to our newsletter