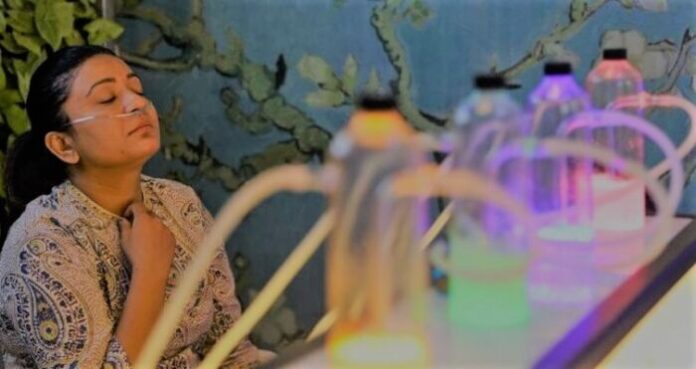 A breath of fresh air: this is what the innovative New Delhi bar offers, offering a break for rest to the citizens who can breathe pure air in the Oxygen bar to cope with the city's high pollution rate.
The customers can choose the taste of oxygen from different aromas: oxygen with lavender, pepper, vanilla, cinnamon, black cherry, mint, and other varieties of essential oils based on spices and aromatic. Purified oxygen is delivered through a nasal mask connected to oxygen tanks for a session lasting up to 15 minutes.
The health benefits are considerable: oxygen inhalations would be able to alleviate stress, moodiness and fatigue, as they introduce into the body oxygen in quantities far greater than those we habitually breathe. Moreover, they would help to counteract free radicals and therefore aging. However, it is stated at the counter that this is not medicated oxygen found in hospitals.
The benefits are amplified by the choice of aroma. Eucalyptus, for example, soothes sore throats and thins breathing, while vanilla calms the mind. Spearmint relaxes muscles, while peppermint helps eliminate nausea.
The idea was born from the mind of Aryavir Kumar and Margarita Kuritsyna, respectively 26 and 25 years old, two boys who have decided, for a price of around 4 euros (between 300 and 400 Indian rupees), to offer their fellow citizens the possibility to release for a while the lungs from the harmful substances that pervade the air of New Delhi.
"We are used to breathing only 21% oxygen. While breathing this air for an oxygen therapy session removes harmful free radicals, neutralizes environmental toxins and destroys anaerobic infectious bacteria, "says the young entrepreneur in an interview by Shradha Shahani, published in Traveler, adding that purified oxygen can offer people relief from toxic air, fatigue, sleep disturbances, hangovers and even depression.
In India smog is a problem that has taken on the contours of a real emergency, so muche that the authorities are forced to close schools and advise the weakest people not to leave home. The goal of the two young people, thus, is to open more and more places that supply oxygen in the most disparate places of the city, from stations to airports, passing through shopping centers.
In addition to the permanent oxygen therapy sessions, Kumar and Kuritsyna customers can also carry the precious gas with them in practical cans. The idea is brilliant but, as often happens, it has a downside. Oxygen, an essential element for survival on Earth, could be turned into a consumer good that only the luckiest could have access to.
Subscribe to our newsletter