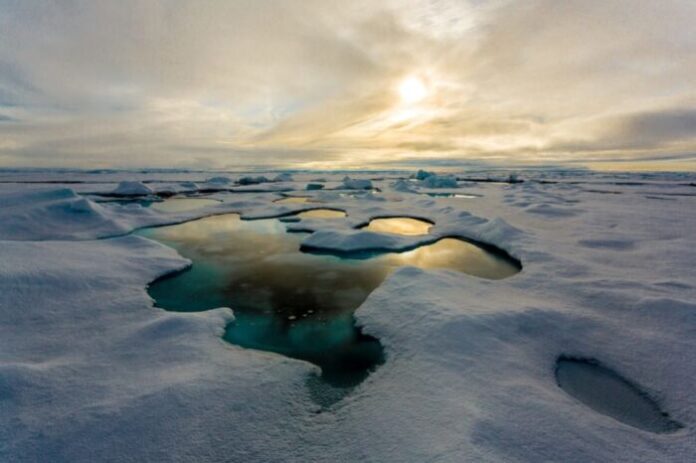 The surface of the Arctic Sea covered by ice is at historic lows: currently, "only" 3.82 million square kilometers of the Arctic glacial sea are covered by an ice concentration of over 15%, according to the Helmholtz Center for Polar and Marine Research from the Alfred Wegener Institute at the University of Bremen. A negative record touched only in another occasion since satellite surveys of the area around the North Pole began in 1979.
"Our satellite data show that between March and April 2019, there was an unusually large decrease in the ice extent, from which the Arctic sea ice was unable to recover," explain Prof. Christian Haas, a geophysicist and head of the Sea Ice section at the Alfred Wegener Institute, Helmholtz Centre for Polar and Marine Research (AWI).
Since the second half of August, however, the seasonal reduction has slowed down, overlaid by short-term fluctuations. The lowest value so far for 2019 was 3.82 Million square kilometres, observed on 3 September. This means that this year, the September average could be below 4 million square kilometres for only the second time.
But in the coming weeks, the ice could retreat further: even though in early fall air temperatures in the Arctic have now fallen below freezing, the heat stored in the water can continue to melt the underside of the ice for a few more weeks. However, if it becomes extremely cold in the Arctic in the days ahead, the ice cover can already increase again. In October, the scientists will analyse the data for the whole of September, and will then be able to make a final assessment of the sea-ice minimum in 2019.
It appears unlikely that this year we will see a new absolute record, below the sea-ice extent of 3.4 million square kilometres observed in 2012. "Record or not, this year confirms the continued long-term reduction of Arctic sea ice as a result of climate change, making it ever more likely that in a few decades the Arctic will be ice free in summer. This will mean drastic changes in the Arctic, with consequences for the climate and ecosystems, as well as for people, including us in Europe," says Christian Haas.
Subscribe to our newsletter