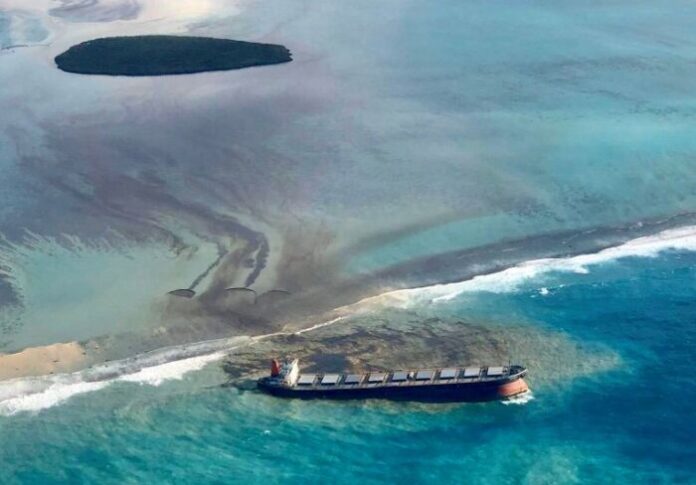 An environmental disaster. There are no other words to describe the oil spill that is invading and damaging the waters of the island of Mauritius, off the coast of East Africa. The Japanese ship Wakahisho ran aground in the atoll and fuel is spilling out of control in the ocean. There is talk of about 4 thousand tons of fuel leaking from the tanker.
The prime minister, Pravind Jugnauth, has declared a state of environmental emergency, which the Indian Ocean island may not have the means to cope with. A disaster which, however, according to the local population, could have been prevented. The Wakashio, in fact, ran aground on a coral reef off the island on 25 July and her crew was evacuated. The ship, registered in Panama but owned by a Japanese company, was empty when it ran aground and in almost 20 days nothing was done to contain the situation.
"Thousands of species around the pristine lagoons of Blue Bay, Pointe d'Esny and Mahebourg are at risk of pollution, with disastrous consequences for Mauritius's economy, food security and health," said Happy Khambule, Greenpeace Africa Climate.
The biodiversity of the place is strongly threatened. The place where the ship ran aground, in fact, is located near Pointe d'Esny, a brackish wetland that hosts species of plants and insects present only in Mauritius, now at risk of extinction.
France immediately mobilized to assist Mauritians by sending specialized teams and material from La Reunion. "When biodiversity is in danger, there is an urgent need for action. France is there. Alongside the Mauritian people, "tweeted Emmanuel Macron after the SOS launched, also via Twitter, by Pravind Jugnauth.
"Our country does not have the skills and abilities to free the stranded ships", said the minister, addressing France, adding that the weather conditions have made it impossible to act and saying he is "worried about what may happen on Sunday when the weather gets worse" .
Jugnauth shared a photo of MV Wakashio on his profile, dangerously leaning as a negligence investigation was launched. Meanwhile, from Paris, they have announced that a military aircraft will bring pollution control equipment, while a navy ship will provide additional materials. "We are in a situation of environmental crisis," said the Minister of the Environment, Kavy Ramano.
Subscribe to our newsletter