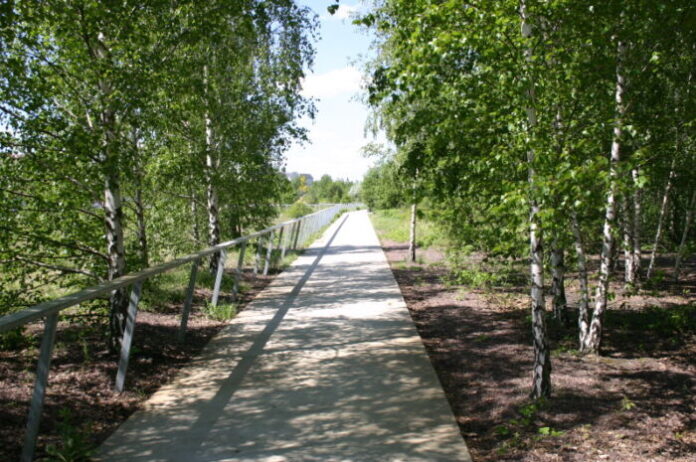 Where there was the Berlin wall there is now a cycle path. Bicycles and pedestrians can discover the German capital by walking through recent history. Construction of the Berliner Mauerweg began in 2002 and was completed in 2006.
The Berlin Wall Trail traces the course of the former GDR border fortifications encircling West Berlin, the former western half of the city, along a total of around 160 kilometers. In most sections, this hiking and bike trail runs along the former patrol road used by customs officers in West Berlin or along the border control road used by GDR border troops for their own patrols.
Sections of historic interest, with traces or remains of the old Wall, alternate with stretches of natural beauty that underscore the country's good fortune in regaining its unity.
Signs mark the course of the Berlin Wall Trail, and maps displayed at regular intervals help bikers and pedestrians find their bearings. Berlin History Mile stations and the info markers along the Berlin Wall Trail also provide information in several languages on the division of Germany and the construction and fall of the Berlin Wall.
Photographs and short texts describe events that happened at the site in question and recall the political situation and everyday life in the divided city. The "Berlin Wall Orientation System" in the city center has maps and listening stations and gives visitors another way to discover traces of the Wall. People who died at the Berlin Wall are recalled at 29 different places along the route with short biographies. These info markers complement the historical memorial markers and crosses still found in what was once West Berlin.
The Berlin Wall Trail is divided into 14 individual sections to help you plan a bike tour or a walk. Each section is between seven and 21 kilometers long, and you can reach the beginning and end of each route easily with public transportation. In general, bicycles are permitted on S-Bahn, subway, and regional trains.
If you are thinking about a trip to the German capital, surely the most stimulating and greenest way to visit it is riding a bike, a ride between history and nature that will immerse you in an atmosphere of sure interest.
Subscribe to our newsletter