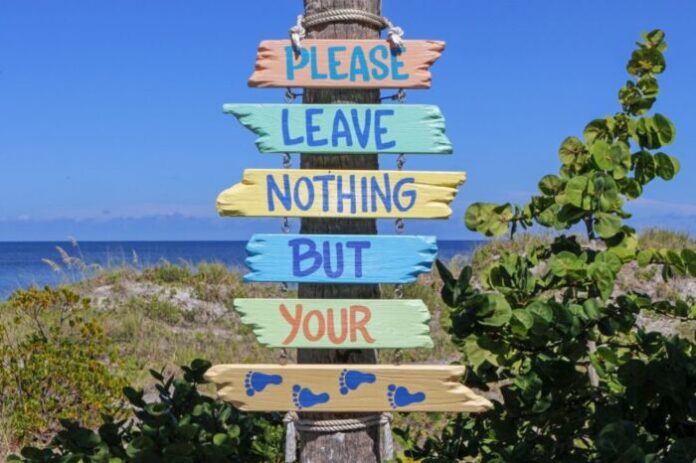 The word "overtourism" is a neologism that does not yet appear in all dictionaries. To give us a definition is the Oxford Dictionary which speaks of "an excessive number of tourist visits to a popular destination or attraction, with consequent damage to the environment and historical sites and a poor quality of life for residents".
The negative consequences of excessive tourism are increasingly evident, so much so that the United Nations World Tourism Organization has established September 27 as World Tourism Day and uses this platform to discuss the social, political, economic and environmental impacts of tourism.
This day highlights the importance of sustainable tourism—a framework for engaging travelers and the travel industry at large in supporting goals that include protecting the environment, addressing climate change, minimizing plastic consumption, and expanding economic development in communities affected by tourism.
A new National Geographic survey of 3,500 adults in the U.S. reveals strong support for sustainability. That's the good news. The challenge will be helping travelers take meaningful actions. According to the survey, while 42 percent of U.S. travelers would be willing to prioritize sustainable travel in the future, only 15 percent of these travelers are sufficiently familiar with what sustainable travel actually means.
"One of the reasons we embarked on this study was to have a better understanding of what consumers really want and what sorts of sustainability practices matter to them," says Gary Knell, chairman of National Geographic Partners. "The consumers most familiar with sustainable travel are young: 50 percent are 18 to 34. Among travelers who understand the sustainable travel concept, 56 percent of them realize travel has an impact on local communities and that it's important to protect natural sites and cultural places".
The survey will inform National Geographic's experiential travel and media businesses and spark conversations for creating solutions around sustainability. The travel content focuses on environmentally friendly practices, protecting cultural and natural heritage, providing social and economic benefit for local communities, and inspiring travelers to become conservation ambassadors. In short, we see every National Geographic traveler as a curious explorer who seeks to build an ethic of conserving what is special about places.
National Geographic Expeditions offers a range of group travel experiences, including land expeditions, cruises, and active adventures, many of which take place around a collection of eco-lodges that are rigorously vetted for their sustainability practices. Unique Lodges of the World are selected for commitment to incorporating innovative sustainability practices into their everyday operations, including supporting natural and cultural heritage, sourcing products locally, and giving back to the local community.
"From our perspective, the best properties in the world are built with a mission to help protect people and the environment," says O'Shannon Burns, National Geographic Expeditions' sustainability director. "When travelers have the opportunity to directly support these efforts during their stay, they come away wanting to help even more—to preserve and protect the places they visit".
The travel industry is more dependent than most industries on the health of local communities, environments, and cultures. Knell says that "to continue to provide authentic travel experiences, we need to invest in the resiliency of places affected by overtourism and climate change. We at National Geographic believe it's important to celebrate the beauty in the world—natural and cultural—so that people are keen to take the steps necessary to protect it".
Subscribe to our newsletter