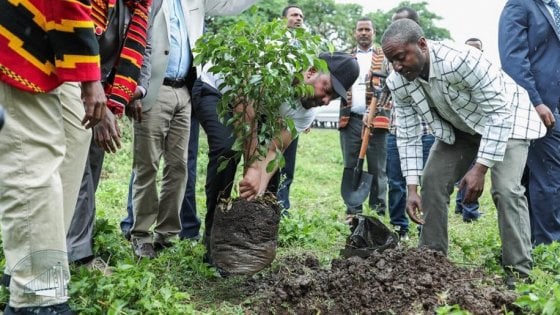 Ethiopia plants over 350 million trees in 12 hours to fight deforestation, climate change and recurring droughts. The African state beats the record held by India thanks to the initiative launched by the Ethiopian Prime Minister Abiy Ahmed. The "Green legacy" campaign was followed throughout the country: ordinary citizens, but also public employees, were invited to plant trees to accelerate the reforestation process necessary for the survival of Ethiopia. Some offices have been closed to allow officials and workers to participate in planting.
Institutions such as the British Embassy in Addis Ababa took part in the initiative, sharing photos of their staff working with spades and pallets, as did the airline Ethiopian airlines and the European Union mission in the country but, above all, millions of citizens to whom the plants were distributed contributed.
The result went well beyond expectations: in 12 hours of duration of the initiative, a total of 353 million, 633 thousand and 660 trees were planted, as the Ethiopian minister for innovation and technology, Getahun Mekuria, wrote on Twitter. A number that allows Ethiopia to exceed the record set by India in 2017, with 66 million trees planted in 12 hours. The goal was 200 million, the result far exceeded expectations.
Ethiopia is the second most populated African country and is suffering enormously from climate change, which causes drought problems, soil impoverishment, land erosion and recurrent floods aggravated by intensive agriculture.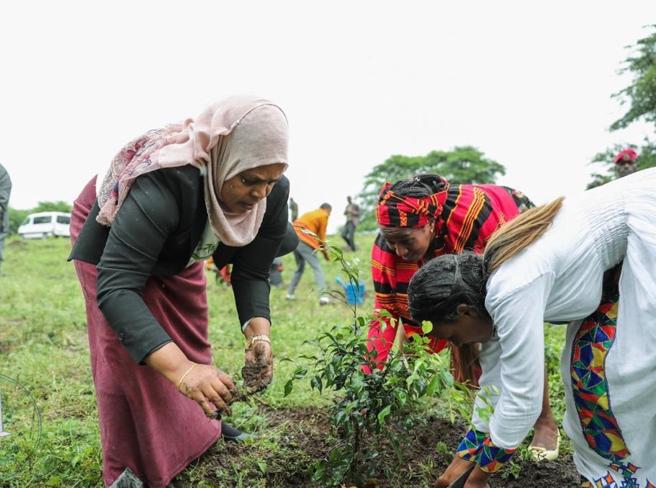 It is therefore necessary and urgent to proceed with a reforestation plan that improves the quality of life of the Ethiopians. According to data provided by Farm Africa, an environmental association operating in the eastern part of the continent, 80% of Ethiopia's population depends on agriculture as a means of livelihood, but 35% do not have enough food for their livelihood. The forest cover of Ethiopian soil has been reduced from 35% at the beginning of '900 to just under 4% in the early 2000s.
In 2017, Ethiopia joined the African Forest Landscape Restoration Initiative which committed over 20 African states to reforest 100 million hectares of land. The Ethiopian goal for 2019 is to plant four billion trees (40 per capita).
A recent study by the Global Ecosystem Ecology in Zurich argued that planting 1.2 trillion trees across the planet would allow it to absorb enough CO2 to eliminate the emissions caused by humans in 10 years.
Initiatives similar to the Ethiopian one are emerging in different parts of the world, driven by new scientific evidence that looks at reforestation as one of the most immediate tools to contain greenhouse gas emissions, but also from local traditions: the Government of the Philippines that is about to pass a law to force students to get an elementary diploma, a middle school certificate or even a degree to plant at least 10 trees first.
Subscribe to our newsletter