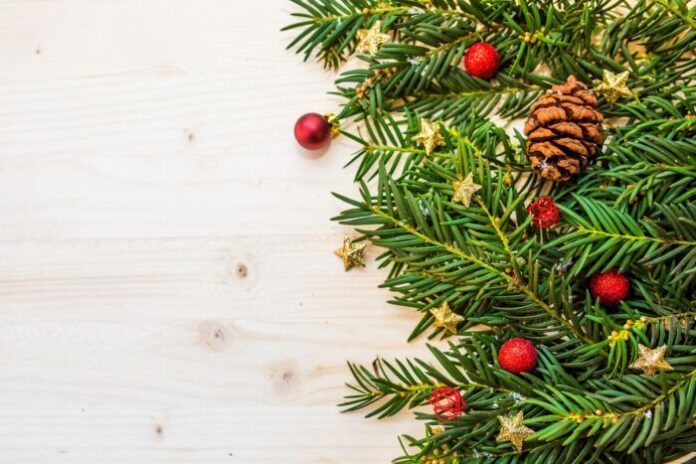 December is here and the Christmas mood is beginning to take hold. There are those who are going to prepare the tree and decorations, those who will start thinking about Christmas Eve dinner or make plans for New Year's Eve, and those who will dedicate themselves to choosing gifts. One thing is certain, we will become super-consumers compared to the other days of the year: waste, in fact, increases by an average of 30% during this period. Bottles, wrappings, wrapping paper, ribbons, bows, are likely to be thrown away on Christmas Day. Wasted food, travel, energy to light everything festively are also likely to contribute to dramatically increasing the environmental footprint of Christmas.
But everyone can also choose a more sustainable lifestyle during the festive season by following the WWF's eco-advice with the Christmas Decalbero 2022, which gathers 10 green tips.
CHRISTMAS TREE YES BUT SUSTAINABLE! If you already have a synthetic tree at home, the best option is to continue using it for as long as possible. Buying fake trees from flea markets can be another low-impact option. If, on the other hand, you do not like second-hand trees, then it is better to prefer a real tree to a fake tree, buying it from a nursery. Locally grown trees that are sold with bare roots or root balls that ensure the plant will last for a long time are the ones to choose. The most suitable species are spruce, fir, juniper, arbutus, laurel, butcher's broom, pomegranate or a citrus tree. To make it last longer, care should be taken to keep the tree away from heat sources and water it regularly. It would also be better to keep the tree indoors for no more than 10 days and at a temperature that is not too high (this will also save you money on your utility bill!). What to do after the holidays? In order not to let the tree die, we avoid letting it go from 19°C in the living room to 0°C outside: we need a few days in an intermediate area (a veranda or a lighted garage). If we have outdoor space, we can keep it for a few more years in a very large pot so as to ensure that we have a beautiful "km 0" tree for subsequent Christmases. If we have chosen a fir tree, we must bear in mind that it is a tree that grows a lot and does not tolerate heat and drought, so it will be very difficult to adapt it to a garden or terrace in the city, but we can take it back to the nursery where we bought it, or to city associations that replant it in suitable areas. Caution! Under no circumstances should the tree be planted independently in the wild because it risks causing serious damage to the genetic heritage of our forests. If our tree has not survived the holidays, remember to take it to the ecological island, where it can be turned into compost.
RECYCLED, NATURAL AND DURABLE DECORATIONS Christmas decorations can become a riot of glittery plastic that usually ends up in landfills after a few years. Rather than buying new ones, organise a Christmas decoration swap with friends, it will be a fun and rewarding time to reuse what we already have and create new looks for the home. You can also browse in a vintage shop for unique and timeless pieces or, get friends or family together to create DIY Christmas decorations. For example, we can make colourful garlands by cutting out old papers and cards and tying them together with string. Or, taking a walk in the gardens or woods, we can pick twigs, colourful leaves, acorns and dried flowers from the ground and use them together with dried fruit peels (e.g. oranges and apples) to make beautiful centrepieces or decorate the tree. All these natural decorations, if stored well, can last for years. You will be amazed at how well nature preserves itself!
LESS AND BETTER LIGHTING = MORE SAVINGS. Given the difficult social-political and environmental situation we are currently experiencing, there are those who fear that this year Christmas may be darker, with less lighting inside and outside the home, due to price increases. There is a way to light the tree, our house, garden or terrace in a more sustainable way. For outdoors, let's choose lights equipped with a photovoltaic panel: 4-6 hours of sunshine are enough for 8-12 hours of light! Let's keep the tree and crib lit only in the evening and with LED lights, and remember to switch them off when we go out or go to sleep. Also, let's say goodbye to traditional batteries; rechargeable ones typically last two to five years and can be recharged hundreds of times. These little tricks will make us reduce energy consumption, without giving up the Christmas atmosphere.
NEVER KNOW WHAT TO GIVE AT CHRISTMAS? Here's an original idea: give a little bit of the future. Choose one of the WWF proposals for this Christmas: your gift will be, for those who receive it, the wish for a richer and cleaner world to live in. Among the anti-waste ideas you will find on the website sostieni.wwf.it, in the Pandagift section, are the water bottle with the Panda logo, the practical shopper to avoid plastic bags and the very useful lunch box. Participating in the WWF campaign "At Christmas put your heart into it", then, this year you can choose not just to like the cute pictures of animals you see on social networks, but to really put your heart into it and support projects to protect endangered species with a paper free adoption.
CREATIVE PACKAGING. We avoid the usual gift wrappings, because most of them cannot be recycled (e.g. tissue paper, plasticised or glittered papers, metallised envelopes). Consider using jute, old newspapers, comics, bags that we do not use, etc. It could even be fun without wrapping: we can hide unwrapped presents in the house for a fun 'gift hunt'. It is also possible to make reusable gift wrapping (in Japan this is a real art called furoshiki) using scraps of fabric, scarves and clothes that we no longer use… as well as making a very elegant package, it is a way of not wasting leftover fabric.
DIY JAR GIFTS. Let's try making personalised gifts under the banner of self-production and creative recycling. Our kitchen, for example, is full of recycled or discarded products that can be valorised by becoming new, zero-cost preparations, also reducing waste. With the peels, stems, leaves and seeds of many products we buy, we can make preserves, sweets, infusions, candied or honeyed fruit, sauces, seeds to munch on, spices, powders to use in cooking and vegetables in oil. We can indulge ourselves with recipes, then package everything by reusing the glass jars we have at home, a nice handwritten paper label and compose pretty gift baskets.
GIVE AWAY EXPERIENCES. We often tend to accumulate objects and our homes are increasingly full, with the result that we run out of space. It is time to start giving experiences to enjoy together instead of objects. At Christmas we could create new, sustainable family traditions, including spending time with our loved ones. Ideas include birdwatching, walks in parks, oases and nature areas, photo treks, litter picking or planting a tree to symbolise the value of nature. You can download iNaturalist's SEEK app, which allows you to identify and discover more about local species, helping scientists monitor global biodiversity. The Christmas holidays are a good opportunity to plan a trip. But you don't always have to go overseas to discover unique and magical places. There are plenty of soft-mobility itineraries available for discovering places that can be reached by train, by bike or by beautiful hikes for all types of hikers, more or less experienced. Remember that contact with nature lowers anxiety and stress levels, with very positive effects on health.
SUSTAINABLE AND IMAGINATIVE TABLE. Let's start with the tablecloth: a nice cotton or linen tablecloth is preferable to disposable paper or, worse, plastic tablecloths. Let's not worry if we don't have one big enough: the mix and match effect is very cool. The same goes for napkins and crockery, as home decoration experts teach us, no one forbids us to use one different from the other. For a festive day like Christmas, dust off your grandmother's or your family's nice service and avoid disposable crockery. Although plastic ones should be 'dying out', they are still available. If you really cannot do without them, choose those certified as compostable so that they can be disposed of in organic waste. In fact, using traditional plates and glasses, as well as cutlery, makes for a more refined and formal table setting, perfect for parties. If we don't have inherited crockery, why not buy a second-hand vintage service or borrow it from a friend? For place cards we use spices and herbs, and for a touch of warm light to the table we can put some certified natural wax candles.
CHRISTMAS BETWEEN TASTE AND SUSTAINABILITY. To respect the environment at the table even at Christmas, try an organic menu, with local, seasonal products and little meat. Starters, first courses, main courses and desserts: in the Italian tradition there are vegetarian dishes that can satisfy even the most demanding palates. For example, vegetable carpaccios, risottos and fresh pasta with citrus fruits, gnocchi, stuffed cannelloni, many varieties of pulses for soups, salads, meatballs and rolls, tempura, pickles and crispy dried vegetables, mushrooms or dried fruit. Fish is good, but only the right kind! Let's go for seasonal and lesser-known but equally tasty and environmentally friendly (and often cheaper!) species. We can get help from the guide pescesostenibile.wwf.it. So, no for the moment to swordfish, salmon, tropical prawns, whitebait (small sardines, anchovies and sardinella), eel and its larvae, cod, hake or cod, no to sole and grouper. Yes instead to horse mackerel, zerro, skipjack, tuna, lampuga, red mullet and sardines and anchovies but only if they come from the Ligurian and Tyrrhenian Seas. Molluscs such as clams, mussels and oysters are also good. In addition, let's be careful to buy the right quantities of food, without overdoing it, and store what is left over well to reduce waste. Finally, to toast? We offer strictly organic wine and bubbles. We can also create delicious zero-waste cocktails: kitchen scraps such as fruit and vegetable peels, as well as spices, can be used in water and spirits to offer tasty, flavoured cocktails and drinks. Finally, bottled water should also be avoided, given the very high consumption on these occasions and consequently the much waste that is produced. We use glass bottles with tap water left to decant for a few hours. Alternatively, you can go and fill bottles at the nearest water house (you save money too!).
STYLISH BUT ENVIRONMENTALLY FRIENDLY OUTFITS AND MAKE-UP. Buying a new dress to wear just once for the holidays is to be avoided, given the fashion industry's huge waste problem (also considering that sequins – often a must at this time of year – are harmful to the environment). Luckily, today there are many greener options, whether it's investing in a sustainable brand or buying second-hand or vintage. The new trend is in fact preloved, used but in perfect condition garments that, instead of ending up in landfills, are put back on the market at low prices. In addition to physical shops, there are plenty of apps where you can sell, buy or trade second-hand. Another option is to rent a dress, fashion renting, to create looks with beautiful couture dresses and accessories that we have all, at least once in our lives, desired. In fact, it is a question of extending the life of garments and objects, without giving up the look and the fun. For make-up, sustainability is not just a trend, but a necessity born of a widespread awareness. We choose cosmetics inside recycled and recyclable materials, designed to be easily differentiated, or even better inside refillable packaging. A new trend is solid and 'naked' cosmetics, i.e. sold without packaging around them. In addition to paying attention to packaging, it is also important to choose products based on ingredients of natural origin and with the indispensable coloured but plant-based glitter, free of plastic.
Subscribe to our newsletter