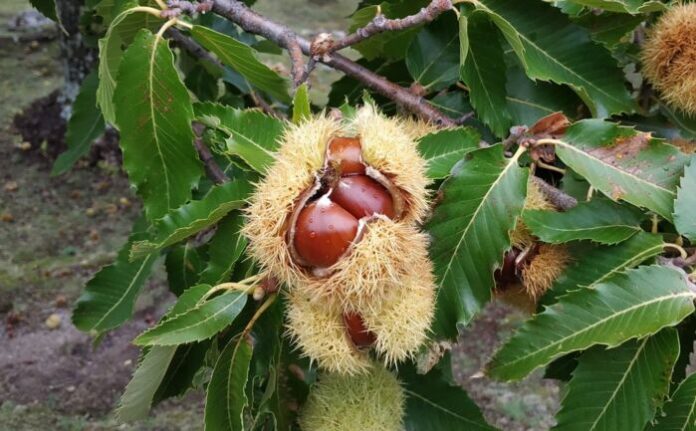 They were once considered the "bread of the poor" for their extraordinary energetic and nutritional properties. Chestnuts, a typical autumn fruit, have a high nutritional power and bring numerous benefits to the body: chestnut flour is obtained from their pulp, used for a variety of applications, from bread to sweet and savory dishes. Over time, the use of chestnuts in cooking has greatly expanded and the dishes obtained from this fruit are truly many and varied.
Chestnuts belong to the fagaceae family and are the fruit of the wild tree Castanea sativa, from which, following grafting and pruning, a real cultivation was born. They are widespread in southern Europe and in particular in Italy. The best chestnuts in Italy come from six locations, from North to South of the country. In particular: Cuneo (Piedmont), Combai (Veneto), Marradi (Tuscany), Vallerano (Lazio), Montella (Campania, Avellino area), Roccaspide (again Campania, Cilento area).
Nutritional properties of chestnuts
To give an idea of ​​the richness of this fruit, just think that 100 grams of chestnuts give us 9 percent of the iron we need, 10 percent of potassium and 14 percent of magnesium. A treasure. Hence the qualities of the chestnut as a natural remedy for intestinal problems, to strengthen bones and muscles, to improve circulation.
Chestnuts are made up of about 50% of water, carbohydrates, proteins, fats, fibers and ashes; the presence of minerals is moderate, including sodium, calcium, phosphorus, magnesium, iron, potassium, zinc, copper and manganese. As for vitamins we find: vitamin A, B1 (thiamine), B2 (riboflavin), B3 (niacin), B5, B6, B9 (folic acid), b12, C and D. Among the amino acids present in chestnuts we mention the aspartic acid, glutamic acid, arginine, alanine, glycine, leucine, proline, serine and threonine.
Benefits of chestnuts
Extremely rich in carbohydrates, chestnuts have energetic properties and are particularly suitable in cases of physical and mental asthenia. Their consumption is useful for combating anemia and seasonal flu, thanks to the high content of mineral salts such as iron, phosphorus, potassium, magnesium and calcium. The fiber contained in the chestnut promotes intestinal motility, reducing hypercholesterolemia.
The presence of folic acid, able to prevent the onset of some malformations at the fetal level, makes chestnuts particularly suitable during pregnancy. Thanks to the presence of vitamin B and phosphorus, chestnuts contribute to the maintenance of nervous balance; potassium is useful for strengthening muscles, phosphorus contributes to the constitution of nervous tissue, sulfur is antiseptic and disinfectant, sodium is useful for digestion, magnesium acts on the regeneration of nerves.
Chestnuts do not contain gluten and are therefore consumable by all people affected by celiac disease. However, it is precisely the high percentage of carbohydrates that makes chestnuts a sufficiently caloric food to be enjoyed in moderation.
How many calories do chestnuts have?
Chestnuts provide a high energy intake: 100 grams of fresh chestnuts contain about 153 calories, which drop to 120 after boiling; specifically, they contain 3.2 grams of protein, 1.8 grams of fat and 33 grams of carbohydrates. In order not to unbalance your daily diet, therefore, you can replace a slice of bread with some chestnuts for both lunch and dinner.
Chestnuts in cosmetics
In the phytocosmetic field, the pulp of chestnuts, cooked and sieved, is used in the preparation of cleansing and moisturizing facial masks. To take advantage of all its beneficial properties, simply prepare an infusion that can also be reused as an astringent skin tonic. The pulp of chestnuts, on the other hand, can be transformed into an excellent fluid cream to be used as a cleanser or emollient mask for the face.
Contraindications of chestnuts
Chestnuts bring an avoidable sense of bloating and should be consumed with caution by those suffering from digestive disorders, especially flatulence, bloating or bloating.
Subscribe to our newsletter