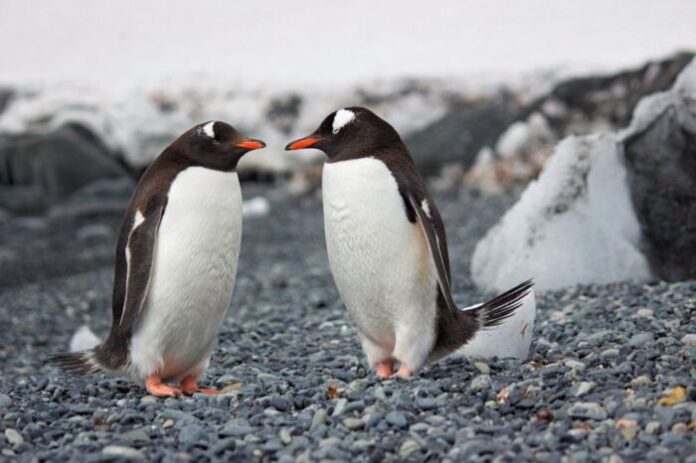 Scientists on a Greenpeace expedition to Antarctica found that the penguins' numbers were falling, with one colony decreasing by 77 percent in nearly 50 years.
"Such significant declines suggest that the Southern Ocean's ecosystem is fundamentally changed from 50 years ago, and that the impacts of this are rippling up the food web to species like chinstrap penguins," Expedition co-leader Dr. Heather J. Lynch, an associate professor of ecology and evolution at Stony Brook University, said. "While several factors may have a role to play, all the evidence we have points to climate change as being responsible for the changes we are seeing".
Researchers from Stony Brook and Northeastern University have been surveying the penguins on Antarctic islands using drones and handheld clickers. On Elephant Island, they found that there were only 52,786 breeding pairs, a 58 percent decrease compared to the last survey in 1971. The researchers also noted similar declines on Low and Livingston islands.
The researchers found that every colony on Elephant Island had declined. The largest decline was the fall of 77 percent recorded at a colony known as Chinstrap Camp. The reason the scientists think climate change is driving the decline is because the penguins rely on sea ice for their food.
Greenpeace argued that the penguins' evident decline was another reason to protect 30 percent of the world's oceans to help vulnerable species recover. Alongside the research expedition, the advocacy group has been installing disappearing penguin ice sculptures in international cities from London to Washington, DC this week in order to raise awareness of the need for a Global Ocean Treaty.
"We installed a melting penguin sculpture in front of the U.S. Capitol to highlight the threats ocean wildlife is currently facing," Arlo Hemphill of Greenpeace's Protect the Oceans campaign said. "Without protection, not only penguins are at stake but entire ecosystems are in danger from the impacts of industrial fishing, pollution, deep sea mining and climate change. We're calling on the U.S. government to support the creation of a strong Global Ocean Treaty at the United Nations to protect 30 percent of our oceans by 2030. This new treaty would create a network of sanctuaries in international waters for wildlife to recover and thrive."
Subscribe to our newsletter