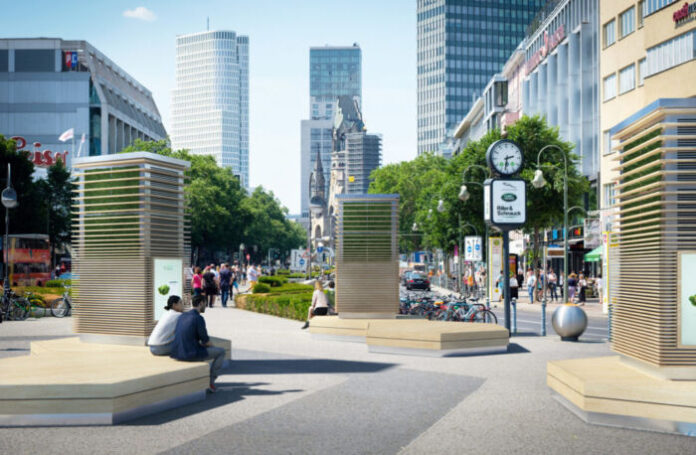 If the state of the world's climate change problems makes you want to hide under the covers, we've got good news: London's toxic air is about to get a little bit cleaner.
In April last year, London Mayor Sadiq Khan introduced the Ultra Low Emission Zone, to penalise polluting vehicles entering certain areas of the city, but pollution levels are still dangerously high, leading to lung problems and even premature death. Thankfully, there's a new initiative to help tackle the problem.
The Waltham Forest borough in the northeast of the United Kingdom's capital city has installed three devices in the open to purify the air of suspended particles including PM1, PM2.5 and PM10. The smart air filters project was done in cooperation with green technology firms Evergen Systems Ltd. and Green City Solutions GmbH. The system equipped with internet of things or IoT contains moss.
The local authorities chose two places with chronical pollution in Leytonstone: the tube station and the main street. Moss has a large surface, enabling strong absorption and evaporation for cooling.
The CityTree has a bench, a green wall, tools to measure the performance and environmental data, solar panels and a battery to power the automatic irrigation system. The air filters have the capacity equivalent to as much as seven thousand people to breathe freely, the German company said.
The smart walls are some four meters high and three meters wide. Engineers and decision makers in the cities around the planet have been long analyzing how prototypes fit in what is usually a limited street space where they are required.
Introducing City Trees: moss-covered installations designed to soak up the worst of the offending nitrogen dioxide (NO2), while releasing fresh oxygen. Created by Green City Solutions, each of these miniature forests offers the equivalent benefit of 275 trees in terms of pollution reduction. There's even a cute wooden bench attached to them so that passers-by can, quite literally, catch their breath.
The trees, which have been called the 'world's first biotech pollution filter', first appeared in London during 2018 as part of a temporary trial around the West End, but they have now been permanently placed in Leytonstone by Waltham Forest Council, as part of a collaboration with clean air company Evergen. You can find them outside the tube station or at the intersection of Leytonstone High Road and Crownfield Road.
Oaky, so this won't single-handedly save the environment, but it could help us breathe easier in the capital, and that's a pretty great start.
Photograph: Green City Solutions
Subscribe to our newsletter