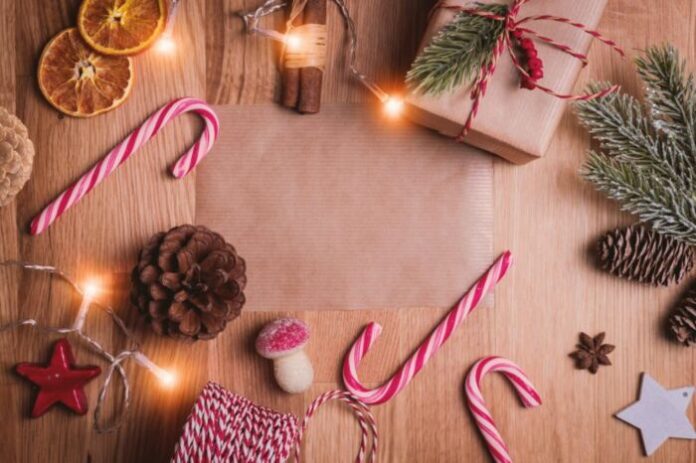 December is usually the busiest time of the year, with people travelling and spending money to entertain themselves, their families and friends. It is also the time of the year that has huge environmental impacts, in terms of waste and the emission of greenhouse gases from the manufacturing of some of our much-loved holiday treats and staples – and plastics are a big part of it. Over the years I have learnt about the harmful effects of plastics to the environment, and have become conscious of how I use it in my daily life, but this will be the first time that I attempt a waste-free festive season. The great news is that I have nothing to lose but everything to gain, knowing that I am contributing to a cleaner and healthier environment.
1. Christmas wrapping paper – Lots of wrapping paper contains plastic. Opt for the understated elegance of brown parcel paper – adding natural decorations like spruce or homemade cookies. If fancy is your thing, make potato prints. You'll need a potato, a blunt knife to carve your festive design and vegetable-based ink to make your print. As the song goes, "brown paper packages tied up with strings, these are a few of my favourite things".
2. Green Christmas trees – All Christmas trees are green. You want an eco one. Firstly, if you've got a fake tree, keep using it – make it last as long as possible. If not, get a real tree with an FSC logo or one approved by the Soil Association. Even better, rent one. Yes, you can now hire Christmas trees and return them after the festive season to carry on growing. Feeling a bit radical? Decorate a large perennial indoor plant like a yucca.
3. Give a gift to the planet – If you know someone who is passionate about the planet, why not make a donation to Friends of the Earth on their behalf? Your Christmas gift will help fund our work in 2020 to protect the climate. Or you could put the planet on your own Christmas list and make a donation yourself. For each gift you'll receive a personalised e-certificate.
4. Send a Christmas ecard – Make your Christmas even more sustainable by sending ecards this year. It's quick and simple to do – just choose your design, personalise your message, add a donation and send your ecard by email.
5. Edible Christmas decorations – What's better than pretty Christmas decorations? Pretty delicious ones that you can eat. Things like tinsel and baubles are normally full of plastic. A tasty alternative is to hang home-baked Christmas cookies from the tree. Strings of popcorn and cranberries also add a bit of sparkle.
6. Christmas beer and wine – It may come as a surprise but bottle tops and screw caps normally contain an inner plastic seal. Buy wine bottles with corks. The cork oak used in wine stoppers is entirely sustainable according to the WWF – no trees are cut down. Get beer cans in boxes to avoid the nasty 6-pack plastic rings. If you really don't do things in halves, how about buying a returnable keg from your local pub? Cheers.
7. Eco Christmas crackers – Can you even remember the plastic tat that came out of last year's crackers? Christmas crackers don't have to be bad. You can get ones made from recycled materials and you can also make your own. There are a number of different kits to choose from. Why not leave it to the joker of the household? They can hardly do worse than gags like this: "Why did the pony have to gargle? Because it was a little horse".
8. Ethical gifts for young children – Wooden toys are making a comeback. From puzzles to push-along animals and musical instruments to building blocks, there are lots of choices for younger children. And when your little ones have grown out of them, pass them on to other families or donate them to a charity shop. Alternatively, support Friends of the Earth and inspire budding planet-savers with an organic t-shirt.
9. Presents for bigger kids and adults – Save yourself a job of wrapping present after present. Gift them an experience instead. Think about their interests and hobbies. Who are their favourite bands? Which is their favourite restaurant? Is there somewhere in the UK they'd love to visit?
10. Christmas dinner with all the trimmings – For plastic-free veg and some of the best deals, head to your local market. Just remember to take your own bags. If you want to avoid the crowds, get a Christmas veg box delivered to your door – our partner Abel & Cole is already taking orders. You can get meat without plastic too. Visit your local butchers with your own containers.
11. Mince pies and Christmas nibbles – Make your home smell of Christmas by following mum's organic mince pie recipe. There are equally tantalising recipes for vegan mince pies. While you're at it, bake festive cookies and sing along to Christmas tunes you would never publicly admit to liking. For chocolate, buy bars wrapped in recyclable paper, like Divine chocolate. Sadly, crisps come in packets that use a cocktail of plastics. This recipe for salt and vinegar crisps might float your boat.
12. Make your Advent calendar – Try making your own Advent calendar this year. It's a great way to cut down on unwanted plastic and packaging, but also it gives you the chance to include your favourite sweet treats.
Subscribe to our newsletter