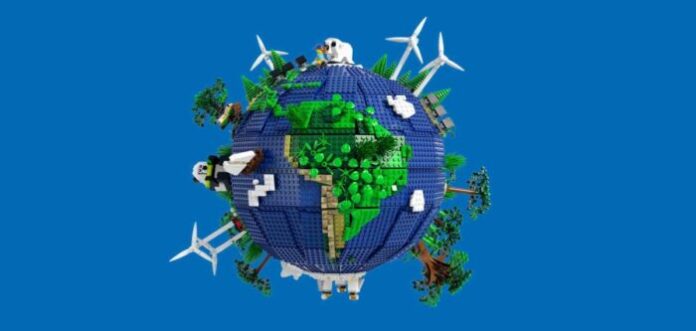 The LEGO Group announced today that it will phase out plastic retail bags in all LEGO® Stores globally in 2020. The move, which is part of the LEGO Group's ambition to use 100% sustainable materials in its packaging by 2025, will see all plastic retail bags replaced with ones made from sustainably sourced paper across the fleet of more than 500 stores.
The new paper bags will be introduced in stores once they have used up existing stocks of plastic retail bags to ensure no unnecessary waste is generated. The paper bags are made from 100% Forest Stewardship Council® (FSC) certified paper and are fully recyclable.
The LEGO Group's sustainable packaging ambition focuses on finding sustainable packaging alternatives by 2025 that are:
Renewable: 100% of LEGO boxes, bags, and special packaging are to be made from recycled or sustainably sourced renewable or recycled materials
Efficient: ongoingly exploring ways to optimise packaging, balancing consumer appeal with environmental action
Recyclable: designing packaging that can be recycled by consumers
"The LEGO Group strives to make a positive impact on society and the planet, which our children will inherit, and it is this focus on future generations that drives our work – you can read on the website – We believe we have a responsibility to minimise the environmental impact of our operations and have set an ambitious target of using sustainable materials in packaging by 2025, and in materials by 2030".
After almost sixty years of activity, during which the historic company has used only a type of petroleum-based plastic, known as ABS (acrylonitrile-butadiene-styrene), Lego is trying to develop innovative low-impact processes environmental to replace ABS with bioplastics. In recent years we have tried to build bricks with wheat, but they have proved refractory to color absorption, or corn, but they were too soft. Fragility or difficulty in getting stuck are the characteristics of those obtained from other "organic" raw materials.
The challenge of Lego, therefore, is to find an ecological material that guarantees the solidity and strength of the bricks, ensuring its perfect functioning and the right duration.
The right compromise seems to be hemp, a plant that grows very rapidly with reduced water consumption, takes up less space than traditional crops, is biodegradable, is not toxic and does not require the use of pesticides. Another strength of the bioplastic derived from hemp is its resistance. Furthermore, during growth, hemp acts as a phytoremediation: it can remove toxins and contaminants from the soil, such as metals, solvents and polyaromatic hydrocarbons, creating healthier and more fertile soils.
In a few years, therefore, it is likely that we will find Lego bricks made of hemp on the store shelves. A panacea for the environment and for our children, who will be able to build plastic-free houses and cities.
Photo from lego.com
Subscribe to our newsletter