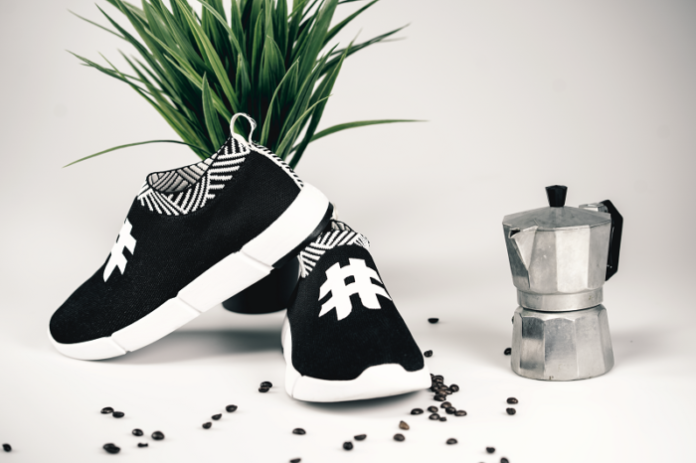 Rens are the first CoffeeSneakers, shoes made with coffee grounds and recycled plastic. The idea came to two entrepreneurs from Helsinki, Son Chu and Jesse Tran, sneakers addicted and worried about the high environmental impact of coffee grounds, which are often thrown into the garbage or into sink drains.
Coffee grounds can be used in many ways but if they end up in landfills they emit methane, a greenhouse gas that is 30 times more powerful than carbon dioxide. For this reason, recycling them seems the right choice, taking advantage of their versatility which makes them an excellent material for the production of texile. Rens created a coffee shoe that can recycle 66 pounds (30 kilos) of spent coffee grounds for every hundred pairs of sneakers manufactured.
Plastic is a problem. It takes hundreds of years to decompose and it's everywhere. Each pair of shoes uses the waste from 21 cups of coffee and 6 plastic bottles.
The process of making RENS sneakers starts with infusing coffee ground into plastic pellets and spinning that mixture into a polymer yarn. That yarn is then knitted on a waterproof membrane, ensuring that your feet will stay dry in any conditions. And as a bonus, coffee has natural antibacterial qualities, preventing your shoes from smelling.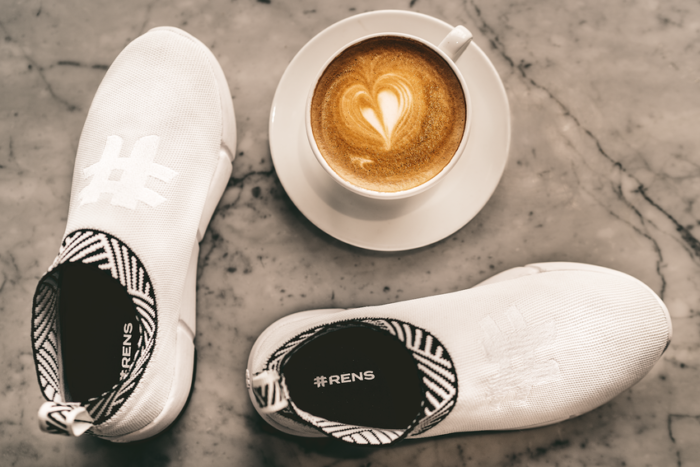 The Rens are not only eco-sustainable but they are beautiful and fashionable, youthful and fresh and, above all, affordable for all budgets.
"No one likes to compromise, and we don't either. You shouldn't have to choose between style and the environment. Your shoes should look great, feel great AND be sustainable. That's why RENS is working hard to deliver you a pair of sustainable shoes that you'll want to wear because they are comfortable, waterproof and most importantly… look rad".
CoffeeSneakers have 80% less impact on the environment than leather shoes and 60% less than textile ones. "At RENS, we're building a new footwear generation made from the world's most advanced technologies and sustainable materials. Like all of us living in the era of fast-fashion, we too are frustrated with the insane amount of waste produced by the fashion industry. We believe that by combining sustainable materials with technology and style, we can create the world's best sneaker, without wasting precious resources from Mother Nature".
With customers in 57 countries, the firm is about to ramp up production after a successful fundraising campaign. Its coffee collection and shoe-making processes are currently handled in China, but it says it has ambitions to move manufacturing to its founders' home country of Vietnam.
"We just wanted to make the best sneakers, something that was technically advanced and sustainable – says Tran – We both came to Finland to study. But it's important to us that our manufacturing eventually moves to our home country – there's a huge growth in manufacturing and investment in Vietnam and we want to be part of that".
Subscribe to our newsletter