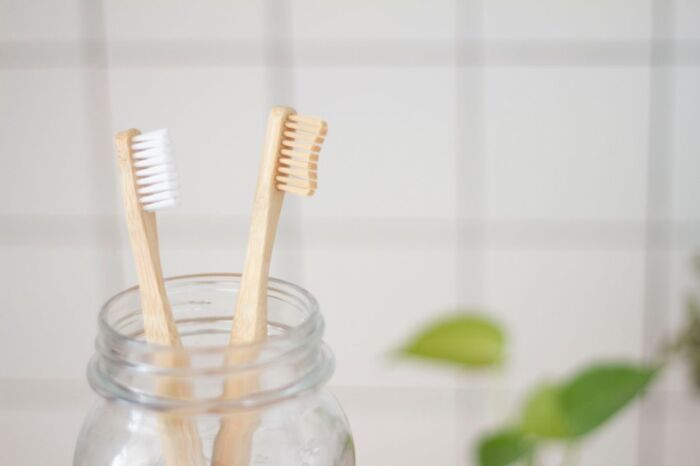 Biodegradable toothbrushes are a valid eco-sustainable alternative to plastic toothbrushes. Dentists advise us to change the toothbrush often, which means that we use, and then throw in the garbage, around 300, over the course of our lives. This causes a great damage to the environment, as a toothbrush takes about a thousand years to deteriorate. Toothbrushes are composed by a material called polypropylene, that is a particular plastic impossible to recycle. The head, instead, is formed by nylon bristles with high environmental impact, without counting the high emissions of gases during production.
In recent years we began to think of an ecofriendly alternative that allows us to have a healthy and dazzling smile without damaging the environment. At first the solution was an interchangeable heads, which allow you to use the handles longer. Then we began to think of an eco-sustainable solution also for the handles and the choice fell on an extremely versatile material, biodegradable and 100% recyclable, the bamboo. The right compromise was found also for the bristles and today we have bristles made of a mixture of bamboo and naylon or vegetable charcoal.
Bamboo, in addition to being an eco-sustainable and biodegradable material, has many other benefits that make it low environmental impact. The cultivation of this plant, in fact, occupies vast areas that become "wooded" – therefore far from other types of cultivation. Furthermore, the bamboo grows in a particularly humid microclimate and its cultivation does not require pesticides or chemical fertilizers, resulting in a sustainable production for the environment as it is the type of wood that has a higher yield / hectare than any other plant. Finally, bamboo spreads and grows very rapidly, leading to a positive relationship with CO2 abatement.
By now there are many companies that understand the importance of creating eco-friendly toothbrushes that represent a valid alternative to traditional toothbrushes, given the growing demand for this product. It is still difficult to find them in the common supermarkets but also this time the net comes to meet us and gives us the possibility to choose the most suitable product for us among the dozens of bamboo brushes that we find on the market. As with normal toothbrushes, we can choose between soft, hard or medium bristles and often even the packaging is compostable, greatly reducing the environmental impact.
Subscribe to our newsletter