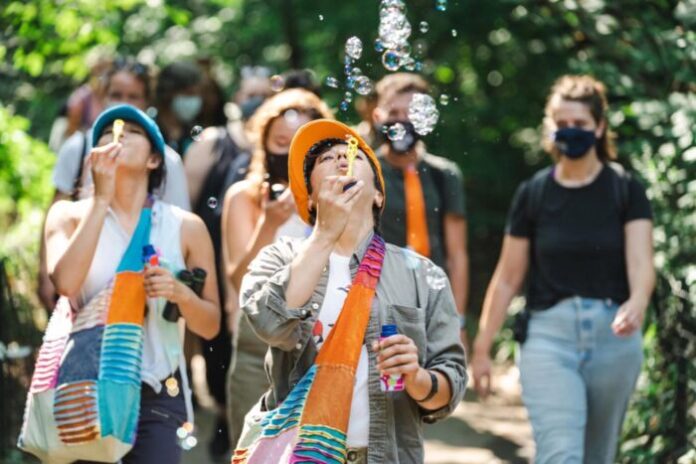 Preparations are underway for the new edition of the World Festival of Theatre Against Climate Change: Climate Change Theatre Action 2023.
The result of a collaboration between the New York-based Arts & Climate Initiative and the Canada-based Centre for Sustainable Practice in the Arts, launched in 2015 and held every two years, CCTA has involved thousands of artists in its past editions, who have realised initiatives in all parts of the world. In 2021, for example, it inspired over 10,000 people in more than 23 countries. This year, the CCTA Theatre Against Change Festival will run from 17 September to 23 December, bringing together communities around the world to take local and global action on climate.
The opening event The Future Within Us will kick off the 5th edition of Climate Change Theatre Action in a fun, poetic and touching evening of theatre scheduled for 17 September in New York where there will be music and magic tricks and where short original plays by Nicolas Billon (Canada) will be performed, Chantal Bilodeau (USA), Miranda Rose Hall (USA), Ethan King (Philippines) and Kevin Matthew Wong (Canada) to confront a changing world using storytelling and live performance to promote dialogue on the global climate crisis and to create a vision of the future that inspires people to take action.
In fact, this year's edition of CCTA proposes the theme All Good Things Must Begin, drawing inspiration from the science fiction literature of the African-American American writer Octavia Butler, who had already tackled the issue of climate change and social justice in the 1990s. Not a catastrophic vision of the future, then, but rather an attempt to actively imagine a just, fair and sustainable future worth fighting for.
At the end of each edition of the Festival, works commissioned from 50 playwrights from all over the world are published in an anthology to keep their circulation alive and inspire the younger generation in particular. After the 2021 edition, for instance, three plays were included in the anthology 'The Climate Divide', a thematic educational book available to Danish high school students studying English, so that they can read and analyse them, generating emotional responses and creative insights that can inspire them to take action against climate change.
In addition to the artistic part, organisers are also encouraged to think of an action – educational, social or political/civic – that can be incorporated into their event to strengthen the community's sense of belonging and to increase audience involvement. Examples of actions in previous years have been: Inviting representatives of local environmental or climate justice organisations to speak about their initiatives, organising a fundraiser for environmental organisations, food banks or tree planting initiatives, hosting a panel discussion with scientists and/or sustainability experts and sharing local sustainability guidelines.
In Italy, on the other hand, the actor and director Giovanni Enrico Morassutti, spokesperson for the project and founder of the international artists' residency Art Aia – Creatives In Residence, is organising an interdisciplinary event in Venice that will involve various local and international partners from the worlds of science, art, research, environmental activism, and even companies to address the issue at 360 degrees. The event scheduled for 24 September aims to unite the local community to inform about the current state of affairs and possible strategies to limit global warming with the objective of triggering a reflection on our way of existing in the world by challenging the conventions of anthropocentric thinking and perception.
"Climate Change Theatre Action represents a rare opportunity for interdisciplinary collaboration in tackling the greatest challenge of our century," says Morassutti. "I am committed to spreading this project, especially in Italy, and facilitating collaboration to help people build solidarity and reduce general resistance to change."
Subscribe to our newsletter