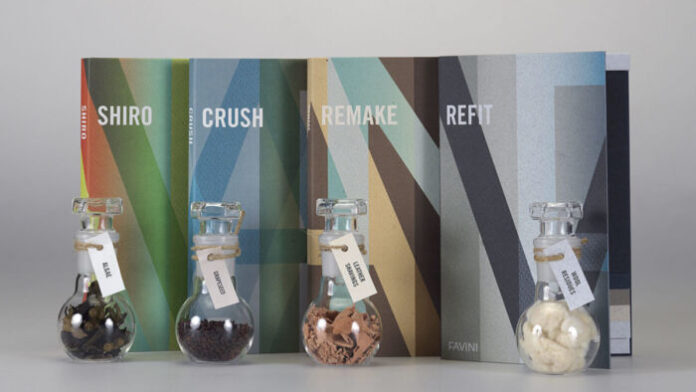 At Luxepack Monaco 2019, the international exhibition for the luxury packaging, from the laboratories of Favini, a leading global company for the development of innovative and sustainable graphic specialities, comes REFIT, the new paper made with textile and wool production residues.
Today consumers are looking for greener products, as well as in luxury goods, fashion and design producers find added value to brands thanks to sustainability, with legislation paying increasing attention to environmental issues dictating stringent directives. It is in this context, that REFIT satisfies the most demanding of requests for recyclable packaging of high aesthetic and technical quality.
REFIT is the new paper conceived and produced by Favini. A company with impressive experience in creative reuse since the 1990's with its Shiro Alga Carta. Its portfolio of innovative and unique ecological papers was expanded in 2012 with Crush, later in 2015 with Remake and now extends to REFIT. The aspect that unites these papers with a strong green connotation is the application of circular economy principles for their production.
The new REFIT paper, produced with wool and cotton textile fibres in partial substitution of tree fibres, is a real example of industrial symbiosis that enhances industrial by-products, to support the fight against waste within an ethical supply chain. The waste from spinning and weaving processes which were destined for landfill, are used to produce the new REFIT material with a high aesthetic and an expressive value for print and premium packaging.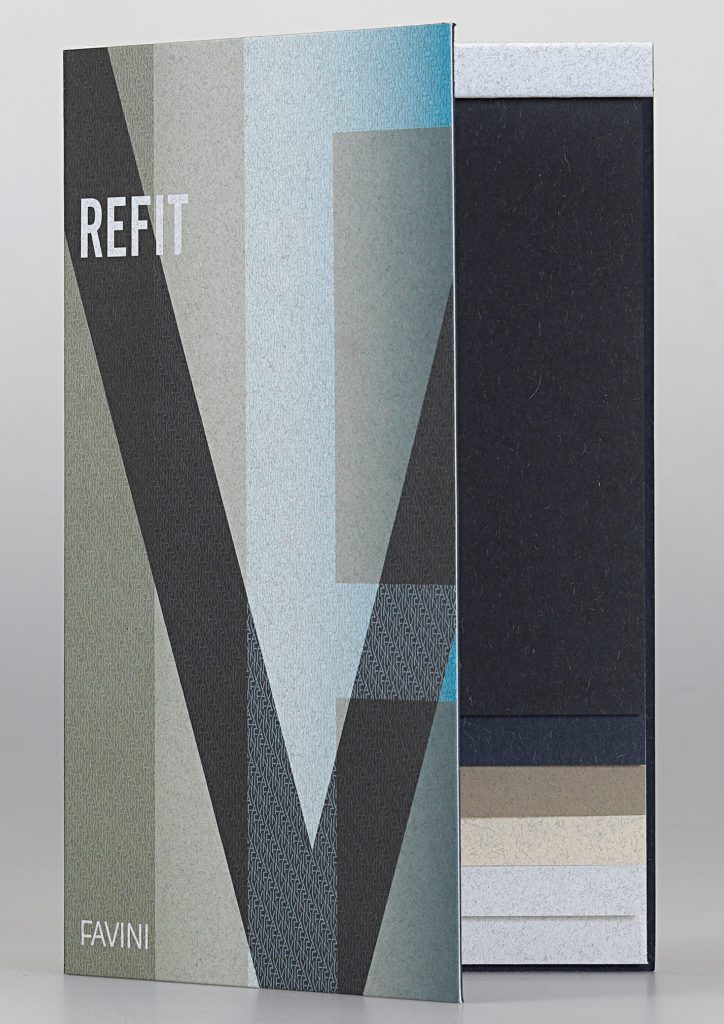 By creatively reusing this material in paper production, we obtain REFIT, a 100% recyclable and biodegradable paper. The residues of wool and cotton are visible on the surface and give a distinctive appearance. From a tactile point of view, the wool contained in REFIT WOOL tantalizes the fingertips with a distinctive roughness of the product, whilst the cotton gives a soft touch to REFIT COTTON.
"Favini's path in the world of creative reuse of waste from alternative production chains is enriched with a new fascinating range of products: Refit, which offers new life to textile waste. By-products of wool and cotton partially replace the cellulose from trees and transfers the distinctive tactile and visual experience typical of natural fibre clothing into the Refit paper. Once again, Favini interprets the proposition of circular economy in an original and innovative way, this time turning to the world of fashion" says Eugenio Eger, Favini's CEO.
The content of the new REFIT paper includes more than 15% fibre derived from textile by-products, 40% post-consumer recycled cellulose that is certified FSC® and 45% virgin cellulose fibres also FSC® certified.
For the production of the REFIT paper the textile by-products used are of Italian origin, coming from carding, spinning and weaving. The use of industrial by-products limits the use of virgin raw materials and promotes the creative reuse of waste, according to the circular economy philosophy.
The range consists of five colours: Blue and Black for the REFIT WOOL line, and White, Pearl and Grey for the REFIT COTTON variant. The available basis weights range from 120 to 360 gsm and includes coordinated envelopes, offering a comprehensive solution for packaging and printed communication.
Subscribe to our newsletter